Everything you need to know to get started.
FREQUENTLY ASKED QUESTIONS
Coho Commissary
How much does it cost to work out of Coho Commissary?
---
Coho Commissary offers flexible memberships that make it easy to start and operate your business - whether you are an entrepreneur lauching your food start-up or a restaurant group interested in expanding or centralizing operations. Membership packages start as low as $400/month and increases with the size of the space and additional amenities, storage, services etc.
---
What equipment is included in the commissary kitchen?
---
We have three facilities that offer a wide variety of different equipment. You can learn more about the unqiue amenities offered at each of our locations here.
---
What happens if I decide I need more or less space / hours in the commissary?
---
We pride ourselves on giving you flexible options and work with our members to customize spaces in order to accommodate specialized equipment and process needs associated with increased / decreased capacity.
---
What kinds of products can be produced at Coho Commissary?
---
Each of our facilities caters to different food businesses. Across our three locations, we can support the production of almost any type of food or beverage product. Examples include, baked goods, dairy products, meat products, vegan products, gluten-free products, beverages, and more.
---
Can I produce cannabis infused products at Coho Commissary?
---
No, due to the strict regulation of controlled substances by provincial and federal authorities, cannabis products cannot be produced in the same facilities as food produced for general consumption at this time.
---
What is involved in getting expedited public health approvals after I start working in Coho Commissary?
---
The process differs from location to location but in each jurisdiction, we work closely with the health authorities to simplify and expedite the process of obtaining your regulatory approvals.
---
How long does it take to start producing?
---
When you are ready to start at Coho, we work closely with our health authorities and insurance companies to have you legally operating and producing in our facilities within two weeks of signing the membership contract.
---
My products need special handling and certification, such as Organic, Kosher or Gluten Free. Can I do that at Coho Commissary?
---
It depends on the certification you are seeking and which one of our facilities you are interested to operate in. We may be able to accommodate your needs but would have to learn more about your specific requirements. Please contact us directly to inquire further.
---
How can I be confident that Coho Commissary is a stable and reliable location for my business?
---
We are in business specifically to give our members the best and the most stable production space we can. We have long-term leases which means we aren't going anywhere any time soon. Furthermore, we are proud of our impeccable VCH health records and exceptionally positive member reviews.
---
How do I get started?
---
Apply today and we will be in touch to schedule a tour and to chat about how we can work together!
---
---
Coho Market
WHY SHOULD I SIGN-UP?
---
LOCAL, DELICIOUS FOOD ONLY TWO CLICKS AWAY! If you are yet to add items to your cart, we recommend signing up as a member as if at any point you have to reload the page, your cart does not disappear! So then we ask you, why not?
---
HOW DO I SIGN-UP?
---
IT'S SUPER EASY and FAST! On the top right corner of your screen you will notice a 'Login' button. Click into the button and it will prompt with the following choices:
Sign up with Facebook Sign up with Google

Signing up with the above will load a new tab prompting you to fill in your log-in details for the chosen platform. THAT'S IT!
Sign up with Email

This option will load a screen prompting you to fill in your preferred email and password. Click Submit and you are GOOD TO GO!

As a logged in user on our store, YOU CAN CONTINUE SHOPPING EXACTLY WHERE YOU LEFT OFF, YOUR CART UNTOUCHED!
Happy shopping!
---
HOW DO I ORDER?
---
Once you've decided what you would like to order from the wide variety of local foods shelved in our online shop there are a few ways you can add the item to your cart:

SPEED CHECKOUT:
Below all our products you'll find an 'Add to cart button'. One click, and it's in your cart.
Clicking on the 'Add to Cart' button pops open your quick cart view. Here you will be able to view all Items in your cart, the Quantity of each, and your cart Subtotal

Please take care in verifying the details of your order. You can choose to either get your order Delivered OR you can PICK-UP! Whichever works best for you.

Once everything looks good, go ahead and click Checkout!
---
NAVIGATING PRODUCTS
---
QUICK VIEW:

As you hover over the product images you will notice a Quick View button pop up under the photo. The Quick View tab opens up a summary of the product with the following information: Name of product Quantity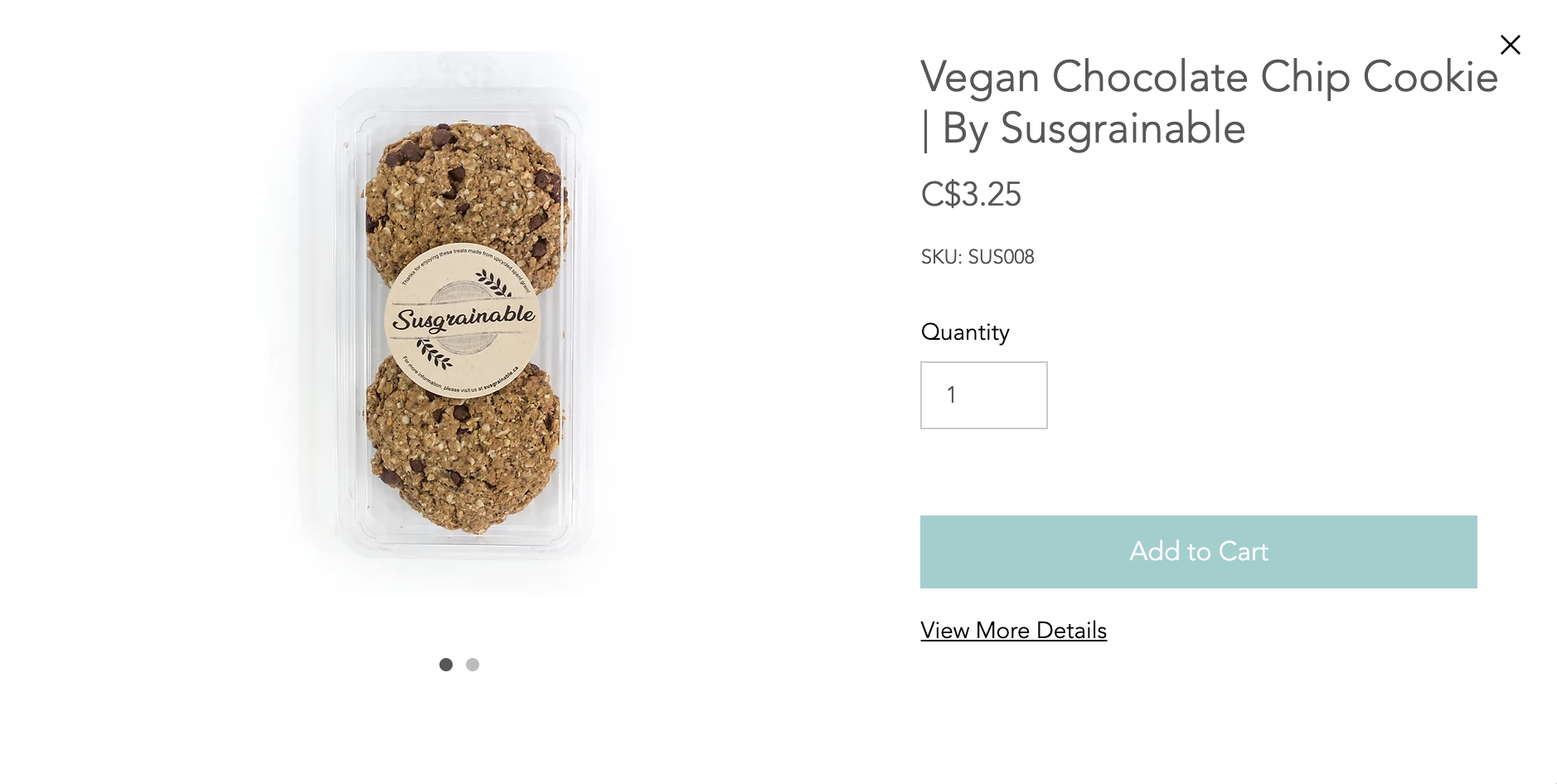 PRODUCT PAGE:
For a deeper dive into product details like ingredients, about the company and more. You can access this page by either clicking into the 'View More Details'

OR

Clicking on to the product name takes you to the detailed product page. Learn more about the amazing local companies that are creating these amazing products!
---
HOW DO I ORDER MULTIPLE QUANTITIES OF THE SAME PRODUCT?
---
To select larger quantities, just open the Product Page(Detail Buy View) or Quick View

In the Quantity tab, type the quantity of the local product you wish to order and that's it! Sometimes it's a special occasion, other times you don't need an excuse. EITHER WAY, WE ARE GLAD YOU ENJOY OUR CHEFS' GOURMET LOCAL FOODS!

---
WHERE DO YOU DELIVER?
---

---
WHEN CAN I EXPECT MY ORDER TO ARRIVE?
---
Deliveries will arrive between 11am-5pm ON Tuesdays, Wendesdays and Fridays (see above for details) ​ Please remember to include your buzzer number if you live in an apartment/condo building and your phone number to receive a text message notification. ​ In case you are unable to be at home to receive your Coho Market delivery, please leave us a note on the checkout page so that we can try to accommodate the delivery on a different date.
You will receive a text when your delivery is on the way. All deliveries will be contactless and left at your door or on your doorstep during this critical period of time.


Please note: Plan your orders accordingly as some orders may contain products that should be stored/transferred to your freezer or refrigerator in a timely manner following the delivery.

---
WHAT'S MY ORDER DEADLINE?
---
You can place orders up until 5PM Sunday for deliveries in the following week.
---
WHAT KIND OF PRODUCTS DOES COHO MARKET SELL?
---
We offer a range of over 200+ products in our grocery store, from bread to beer. We aim to be your one stop shop for all your local food needs. To try and ensure a seamless experience, we have placed product filters on the right side of the store. You can filter by Product Category, and Brand!
---
CAN I MAKE CHANGES TO MY ORDER?
---
We understand life happens, and try to be as flexible as we can. That being said, all our products are sourced locally from our commissary chefs, and that may mean that sometimes we might not be able to do so. Nonetheless, we will always try our best.

*Please do note that ANY ORDER CHANGE REQUESTS MUST BE MADE PRIOR TO 5PM SUNDAY (the week before your order is to be delivered)

Please reach out to info@cohocommissary.com for any order change requests
---
IS THERE A MINIMUM ORDER SIZE?
---
Nope, you want good local food, and our chefs are eager to share. So if you want to order just a cookie, by all means, go for it. We doubt you'll be able to stop after just one though.
---
WHEN WILL I BE CHARGED?
---
Your payment is processed as soon as you click checkout!
---
CAN I CANCEL MY ORDER?
---
**Yes, ofcourse! Please do keep in mind that order cancellations are to be made 5 PM Sunday (the week prior to your order delivery date)! Any cancellation requests after that unfortunately will not be attended to. **All our products are sourced locally from our commissary chefs, and that may mean that sometimes our chefs have already placed your order into production. Nonetheless, we will always try our best.
---
CAN I RETURN A PRODUCT?
---
We want you to be thrilled with your local products. Currently, however, to ensure the health and safety of everyone involved in delivering these products to you during this critical time, we are not accepting returns. All sales are final unless there is a quality problem with the product at the time of receipt.
---
WHAT IF I'M NOT SATISFIED WITH SOME PART OF MY ORDER?
---
Our goal is to make sure you are always satisfied with the delicious local products shelved in our grocery store. Hence, if at any point you feel even slightly unsatisfied, tell us RIGHT AWAY, and tell us what went wrong. We will try our best to make sure that changes!

Please reach out to info@cohocommissary.com for any concerns regarding your order.
---
I WAS SHORTED ITEMS ON MY ORDER, BUT WAS CHARGED FOR EVERYTHING?
---
We would never intentionally short you on your orders. If at any point a product is unavailable or cannot be delivered, you will be immediately notified. At which point you can choose between receiving the entire order on a later date, receiving what's available first or even a refund.

To ensure you are never blindsided and shorted, we have multiple checks on your order before it reaches your door! We love that you have joined us in our community of local food lovers; our community takes care of each other, and that means, we would never short you. If we ever do make a mistake, email us at info@cohocommissary.com
---
CAN I CHANGE MY DELIVERY DAY?
---
The delivery schedule is fixed. That being said, we understand life happens and take on special delivery requests on a case by case basis. We will always try our best to ensure you have a seamless experience! Please feel free to reach out to us at info@cohocommissary.com!
---
WHAT IF I MISS MY DELIVERY?
---
In case you are unable to be at home to receive your Coho Market delivery, please leave us a note on the checkout page so that we can try to accommodate the delivery on a different date.
If we are at your door and have no response, we deal with the situation on a case by case basis. The end goal is to make sure you are able to enjoy the delicous local food you had been waiting for, the way they should be enjoyed. If the situation permits, we will leave your order at the doorstep, and if the products or situation dont allow this, we will just reschedule our delivery
---
---
Didn't find the answer you were looking for?